Xmas eve, first day of Xmas and second day of Xmas, it seems we in Holland like our Xmas so much we have 3 days to celebrate  it. Well, usually Xmas eve is not one we celebrate and the second day of Xmas is like boxing day in the UK. This year however we had 3 days. On Xmas eve I went to a cousin with my parents to have dinner and we were tasked with the dessert and buying that just from the shop is not the way to do it, so I looked for a nice recipe and made a lemon tart which went down pretty well with all people there.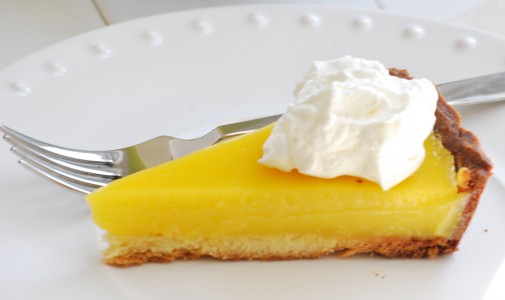 The first day of Xmas was at my sisters and because she is in the middle of construction on her new house I took it on me to make dinner and did some experimenting, as I do each Xmas
– Cauliflower soup
– Salad in a Jar
– Roast Fennel
– Fried Polenta
– Red pesto filled chicken wrapped in pancetta
– Poffertjes with warm cherries and ice cream (poffertjes are a Dutch thing and are basically small pancakes)
Then the second day of Xmas, where I was at my parents, just with my parents and again I was the one doing the cooking (I offered, as I like to cook). We had:
– Pumpkin and carrot soup
– Roast Potatoes as seen from Jamie Oliver
– Pork loin with a sweet tomato, sugar and balsamic glaze
– Shredded Brussel sprouts (also by Jamie Oliver)
– Glazed Carrots
– Baked Pears with honey, caramel and ice cream
A few things I had made before, so I knew those would be nice and some I had not made before, so those were a bit of a gamble, but most turned out great. Myself and others were not a big fan of the fried polenta, so it was nice to give it a try, but it will probably stay by that one time. The cauliflower soup was one I had a small worry about as cauliflower is not the most tasty vegetable out there, but that turned out very well and my mom even had seconds on that. The glazed carrots I had made last year as well and this year they were much better as they were at least cooked compared to last year when they were basically raw.
Anyway, good Xmas with a lot of time spend in the kitchen and a lot of time before that making the menu, but it was fun. Will probably be eating take-away the rest of the year though.
---
The images on this page were not made by me (except the pancetta wrapped chicken), as I did not make any pictures during Xmas. Find the source of the images I used here:
Lemon Tart, Salad in a Jar, Roasted Fennel, Fried Polenta, Ice cream with warm cherries, Pork Loin, Roast Potatoes, Shredded Brussel Sprouts, Glazed Carrots, Baked Pears